During the summer months we have buried ourselves deep in refactoring the node infrastructure which runs the Internet of Coins. On top of that, we continued our token distribution and we worked on optimizing our development and delivery cycle.
Back on the road
With the summer coming to an end, we went back on the road again. In August, we showcased and tested our latest wallet iteration with an audience at a crypto meetup in Utrecht.
Concluding the summer, Outlier Ventures invited us to a final event: the Fetch.AI meetup.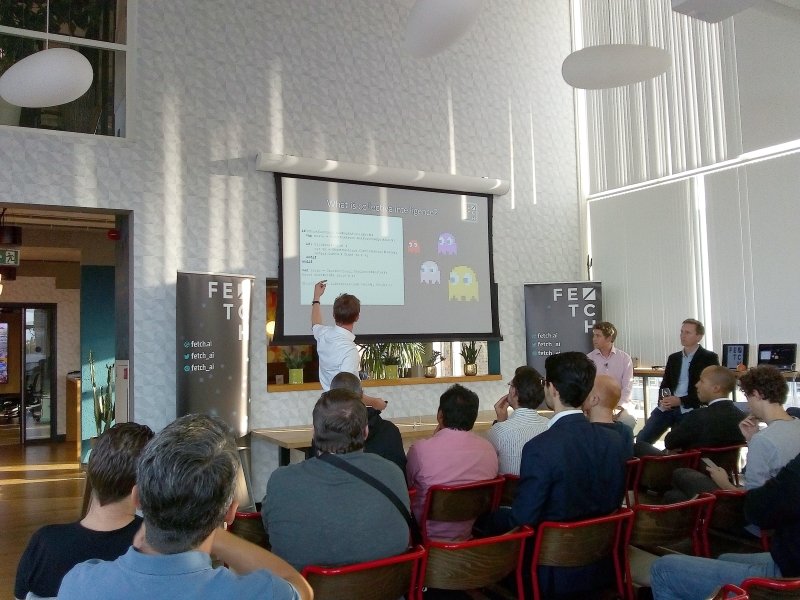 Outlier Ventures invited us to the Fetch.AI meetup in Amsterdam
We met with Toby Simpson and Joshua Croft, who introduced us to what Fetch.AI calls 'collective intelligence'. The next step in revolutionizing and optimizing streams of agents, such as supply chains with containers or traffic with cars and pedestrians.
A very cool concept, which could have great potential once adopted. We will keep in touch to explore how Internet of Coins could prove useful to Fetch' goals.
On our road to create an open platform, we have decided to start sharing our technology with other major and upcoming initiatives in the blockchain & DLT space. This means we will be hitting the road more often.
Meet us here (Fall 2018)
September 19, 2018 Amsterdam (NL) – #BUIDL Amsterdam #2 meetup
October 17, 2018 Utrecht (NL) – Utrecht Blockchain Congres
---
Previous events
August 23, 2018 Utrecht (NL) – Crypto & Blockchain Meetup in Utrecht
August 30, 2018 Amsterdam (NL) – Fetch.AI Meetup
September 14, 2018 Kyiv (UA) – Blockchain UA. We will talk on the Mainstage on how we are bringing the cryptosphere together with the Internet of Coins project
September 15, 2018 Amsterdam (NL) – Statebox meetup
We will keep you updated via our blog and other channels :)