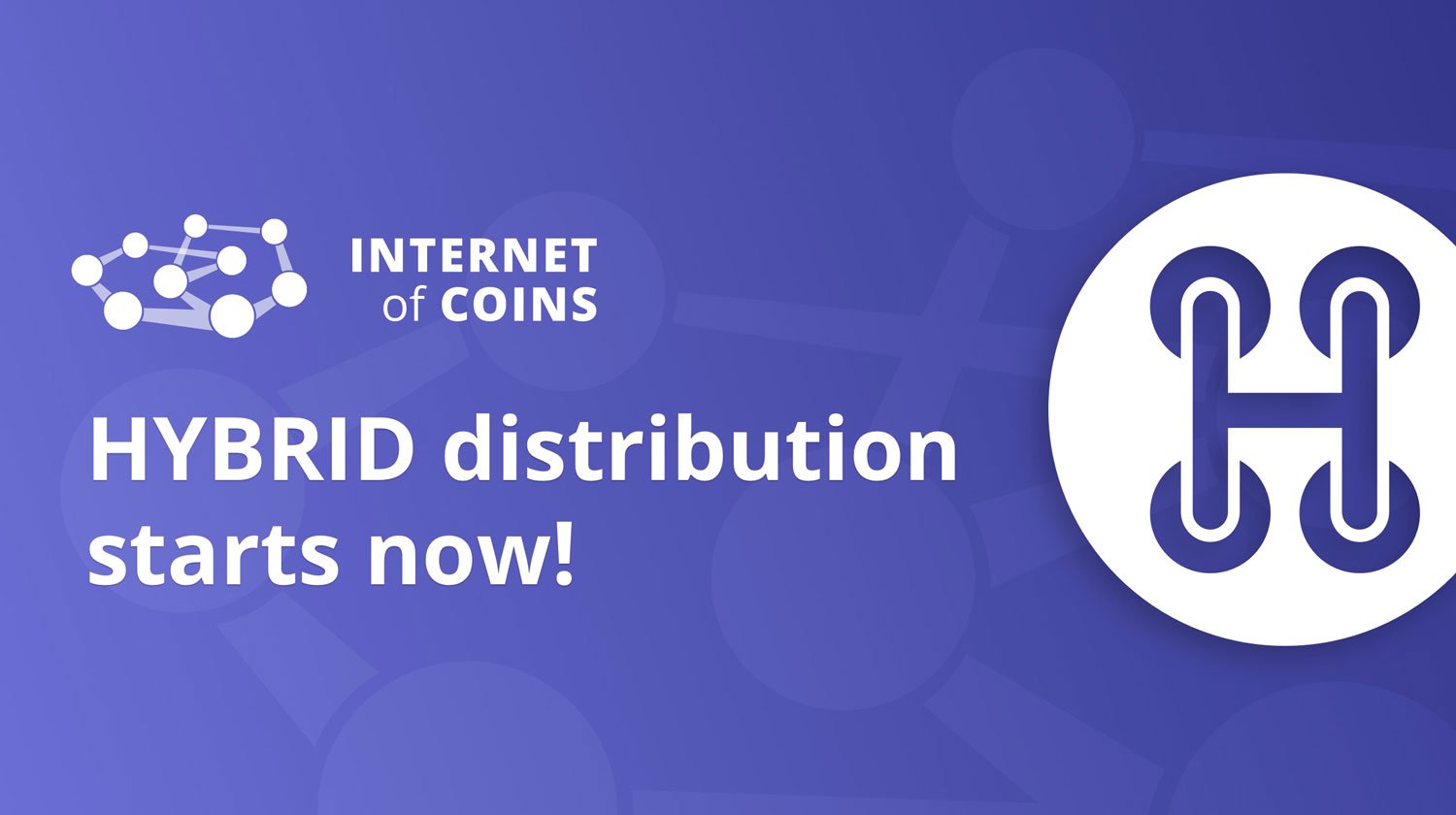 Last two weeks have been very exciting for the Internet of Coins team. We have had a lot of positive feedback on the new wallet and the new website design. But above all, the HYBRID (XHY) distribution to our crowdfunders is about to start! Read all about how and where you can get your HYBRID tokens.
How to receive your HYBRID tokens in 3 simple steps
HYBRID tokens will be distributed over the course of the next seven weeks. Every week, we will roll out a new batch of tokens on a new blockchain system. The tokens are distributed into your new Internet of Coins wallet. We do not distribute the tokens into any other wallet than the one we will provide you with.
Step 1: Keep the same IP-address, don't block JavaScript Make sure you do not change your IP-address during the 20-minute process and turn off all applications that block JavaScript. That means you can not use the TOR browser, a (VPN) service that randomizes your IP-address (within the 20 minute interval) or a JavaScript blocker.
In other words, make sure you use a regular browser session. If you do not use any of these services, you can continue with step 2.
Step 2: Follow the instructions by email Follow the instructions you will receive by email. Everyone who has donated during the crowdfund campaign will be contacted on the email address used during the crowdfund.
Step 3: Go to the https://ioc.re short URL Click the https://ioc.re short URL links to confirm your email address and receive your wallet credentials. This is the official short URL we use for the HYBRID distribution.
Our tokens will only be distributed to our crowdfund supporters. Please make sure you have access to the email address you used during the crowdfund. If you do not have access to this email address, please send us an email at support@internetofcoins.org.
HYBRID Distribution Schedule coming 7 weeks
This week, the first crowdfund supporters will receive their HYBRID tokens in their Internet of Coins wallets. The first set of tokens will be distributed on the Waves blockchain system.
The HYBRID tokens are distributed over seven different blockchain systems: Waves, Ethereum, NEM, NXT, BitShares, Counterparty and Omni. Currently, the distribution schedule looks as follows:
Week 15: Waves
Week 16: Ethereum
Week 17: t.b.a.
Week 18: t.b.a.
Week 19: t.b.a.
Week 20: t.b.a.
Week 21: t.b.a.
The tokens of the next roll-out will automatically be added to your Internet of Coins wallet. If you have followed all steps and have successfully received your wallet credentials, you do not have to do anything to receive the other tokens.
More information about HYBRID tokens
Would you like to read more about HYBRID tokens? Please, read the FAQ.
Transfer tokens to another wallet
For those who want to transfer their new HYBRID tokens to a different wallet, keep in mind you have to pay transaction fees.
For most tokens, you will have to pay the network fee of the underlying blockchain system to transfer tokens. This transaction fee is paid in the same cryptocurrency as the blockchain the tokens are distributed on (i.e.; to transfer WAVES.HYBRID to a different wallet, a transaction fee in the WAVES currency will be required.)
We recommend everyone to use the wallet created during the validation process! The tokens that will be distributed in the future with regards to the crowdfund reward plan will be also be sent to these wallets. So make sure your credentials are backed up for 2019 and 2020!